Benshaw S4 Series NEMA 4 Washdown Drives
Benshaw S4 Series NEMA 4 Washdown Drives, 100 HP and below, are designed for high pressure washdown applications and are built to withstand the harshest industrial environments. All drives in the S4 Series feature a rugged polycarbonate enclosure that exceeds NEMA 1, 12, 4 and 4X standards, with double labyrinth seals that keep dust, dirt, oil and water from entering the drive at pressures up to 1,000 psi. Over 180 configurable parameters are available to match specific application and interface requirements, and a standard dynamic braking transistor and resistor are also included for regenerative applications.
230V and 460V S4 Series drive models are web stocked for immediate shipment. 600V models are also available.
Key Features at a Glance …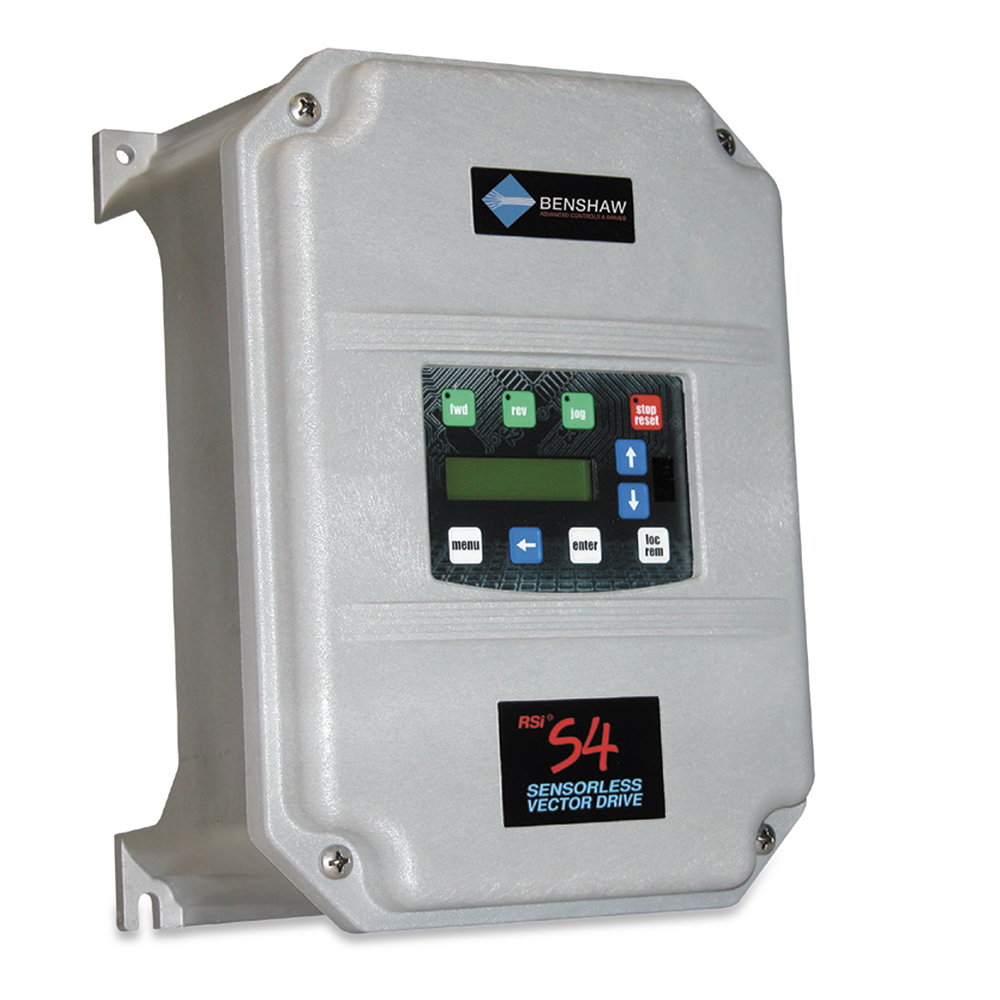 NEMA 4X / IP 66 washdown duty enclosure (100 HP and below)
Gasketed, double labyrinth seal withstands high pressure washdown to 1,000 psi
Standard and heavy duty ratings
Standard braking transistor and resistor
Sensorless vector control
High starting torque
Arctic Mode — maintains safe operation in cold environments
LCD plain English display
Integrated PID control
Standard sequencer software
Standard Modbus communications port
Standard/Heavy Duty Power Ratings
The Standard Duty rating provides overload protection at 120% current for 60 seconds. The Heavy Duty rating provides a more robust power section for loads requiring higher starting torque and higher peak overloads of 150% for 60 seconds.
Integrated Software
Regenerative software is included to eliminate regen energy on over-hauling loads. Sequencer software is also included as standard.
PID Control
S4 drives feature an integrated PID control algorithm to regulate pressure, temperature or flow. PID process variables can be set in "real" values, eliminating the need for confusing conversions.
Dynamic Braking Transistor and Resistor
S4 drives include as standard a dynamic braking transistor and resistor to decrease deceleration times and eliminate regenerative energy. An optional external resistor can be added for even faster stopping times.
---
Click here to learn more about Benshaw S4 Series NEMA 4 Washdown Drives and accessories.
Click here to locate Washdown Drives in our webstore.