MVH2 Series VFDs
Benshaw MVH2 Series Medium Voltage Variable Frequency Drives utilize H-Bridge multi-level and overlapping wave technology for low harmonic content and a nearly perfect sine wave output. Full-size performance … in a compact design!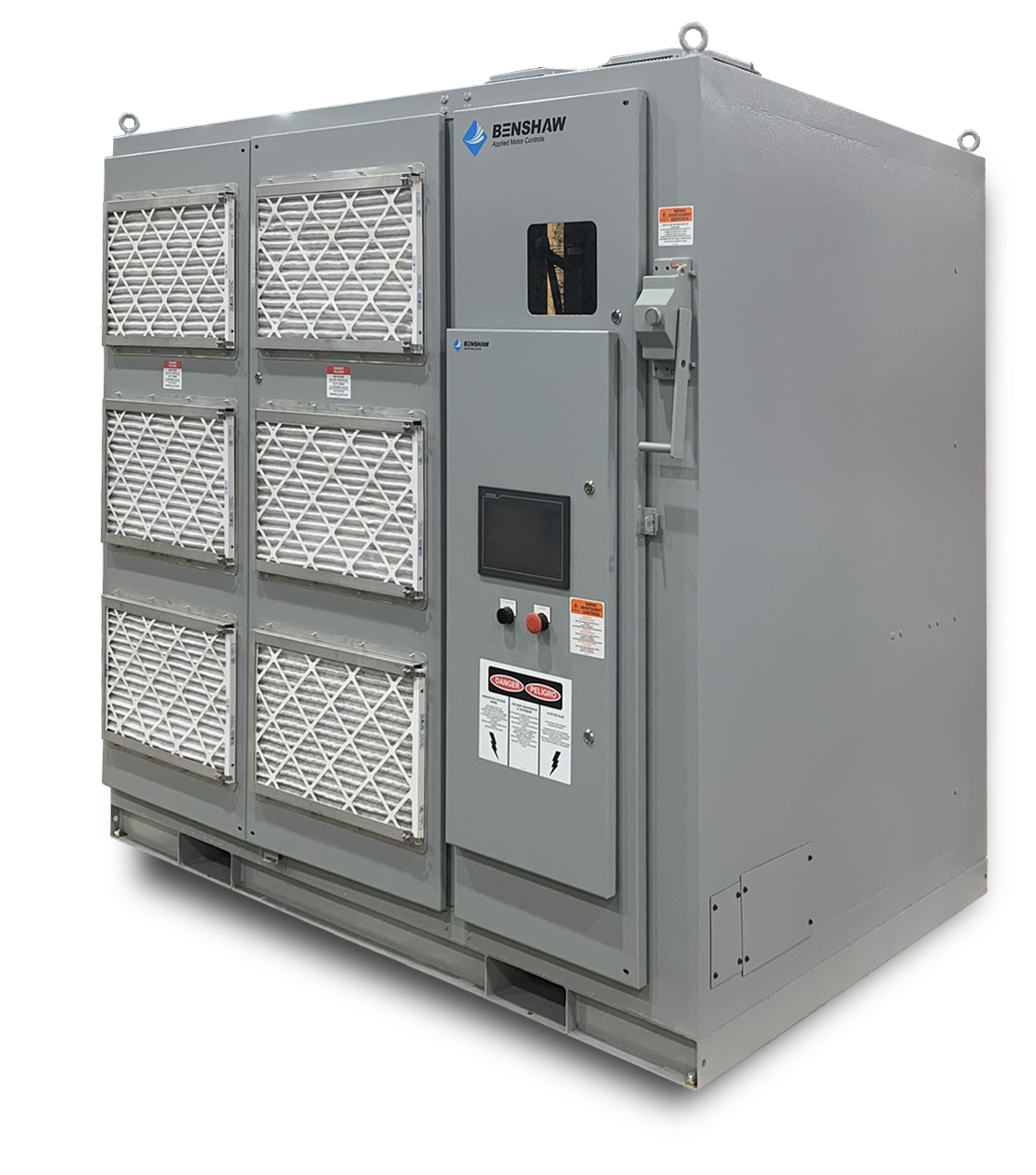 The latest in phase-locked loop technology is used to adjust drive output … providing an ideal solution for soft start, speed control, energy savings and intelligent control of any MV induction or synchronous motor. Offering the performance of a full-size standard drive in a small footprint layout, MVH2 Series drives are ideal for retrofit projects or any installation with space constraints.
UL Listed to 1,250HP @ 4,160V
NEMA 1 forced air, front access, welded enclosure
Fully integrated package: Load break fused disconnect; Inline contactor; Built in dry type transformer
V/Hz, open or closed loop, vector control
Door-mounted touch screen HMI
No cable length restrictions
IEEE 519 compliant
MVH2 Series VFDs can be used standalone (standard configuration) or integrated into an MCC (optional).
---
Click here to learn more about Benshaw's MVH2 Series multi-purpose medium voltage variable frequency drive.
M2L Series VFDs
Our M2L Medium Voltage Variable Frequency Drive family provides the utmost in performance, reliability, serviceability and safety. The M2L Series is designed for versatility, with numerous installation configurations available to suit environmental conditions, providing significant cost savings and reduced total cost of ownership.
Benshaw M2L Medium Voltage Variable Frequency Drives feature a unique, patented topology, with independent transformer, rectifier and inverter sections, allowing Benshaw to offer flexible packaging options to accommodate a wide range of project-specific requirements and limitations.
Benshaw's modular, power-cell-based M2L inverters use the most reliable components available … such as low voltage IGBTs and dry-type film capacitors … and they are equipped with the latest in safety features, including a fast and reliable arc flash detection system. This topology, along with the M2L's advanced remote monitoring system, helps minimize down-time and simplify integration with other drive system components.
The M2L Medium Voltage Variable Frequency Drive family spans a power range from 300 HP to 12,000 HP, operating at industry-standard medium voltages up to 7.2kV and accepting up to a 35kV input. Redundant fans are included in the standard design.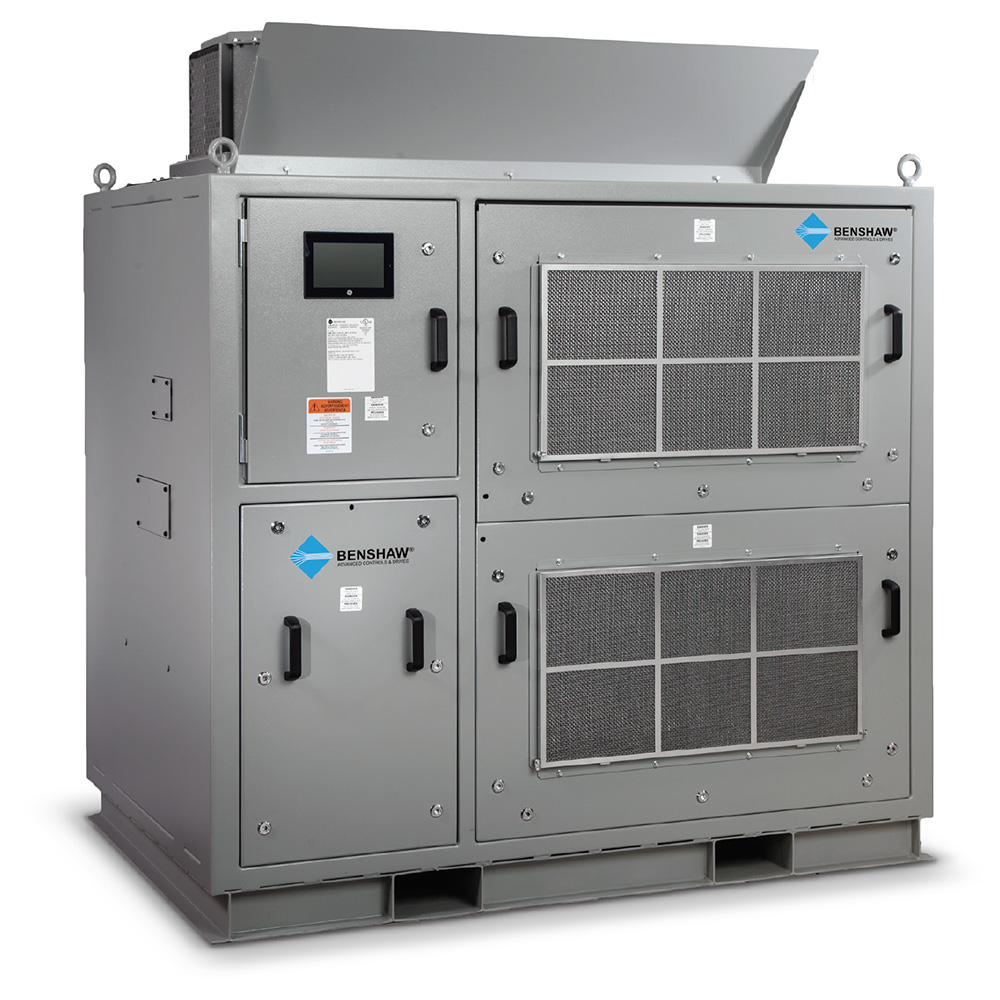 Patented topology
Flexibility of installation
Industry-leading performance
Enhanced reliability and efficiency
Reduced cost of ownership
Simplified serviceability
Dependable safety
Reliability
The M2L's architecture differs radically from other multi-level systems in the market today. The drive consists of three independent components:
Multi-pulse phase-shifting transformer
Modular, power-cell-based multi-level inverter
Multi-pulse diode-based rectifier
This design makes a common bank of capacitors for energy storage and filtering unnecessary, eliminating the need for multiple rectifier-capacitor combinations in individual inverter power modules. DC power is fed to the M2L inverter from a standard transformer — which can be located remotely from the inverter — via bridge rectifiers. Power is provided to the DC link as a whole via the DC voltage terminals, not individually fed to each module. Link energy storage is distributed among identical power modules that comprise the M2L inverter rather than relying on capacitors for energy storage. This arrangement greatly reduces arc flash potential and substantially improves reliability. Utilizing a standard transformer and rectifier minimizes the component count as well as the number of cable connections required.
Customer Benefits
Benshaw

Standard multi-pulse isolation transformer
Limited number of secondary cables
Standard multi-pulse rectifier
Lower component count
Distributed DC link energy storage
Low energy density
Film capacitors
Proven reliable
Modular power cell based inverter
Isolated faults
Reliable LV (1700V) IGBTs
Typical failure in time rate of 100*
Other Solutions on the Market

Complex integrated multi-winding transformer
Numerous secondary cables
Complex power cell integrated rectifiers
Unnecessarily high component count
Concentrated energy storage
High energy density
Electrolytic capacitors
Proven unreliable
Non-modular integrated inverter
Cascading failures
Less reliable HV (6500V) IGBTs
Typical failure in time rate of 4001
* Failure in time (FIT) rate of a device is the number of failures that can be expected in one billion device-hours of operation.
Serviceability
Simple and fast maintenance is ensured through front access only design and advanced diagnostic tools such as Benshaw Connect and the GMC® remote monitoring system. Benshaw Connect provides intuitive, user-friendly access to operational and conditional data, trends and event logs as well as control and motor parameters. The GMC® remote monitoring system provides secure access to the drive and insights into its performance and condition. This system enables end users to rely on Benshaw's expertise and receive immediate support during unexpected situations.
Safety
Your workforce, application and equipment are all protected through a safe design that features a reduced arc flash footprint and unique and standard arc flash detection system. Remote HMI allows personnel to operate the drive while away from medium voltage.
Inherently lower arc flash footprint
Greatly reduced fault currents
Distributed energy storage and isolated faults
Arc flash detection in power cells
---
Click here to learn more about Benshaw's M2L Series Medium Voltage Variable Frequency Drive.