Benshaw's MVCB Series of free-standing medium voltage switchgear assemblies is the newest product family in our medium voltage portfolio. MVCB Medium Voltage Switchgear Assemblies offer the same rugged, reliable design and performance as our other medium voltage product lines.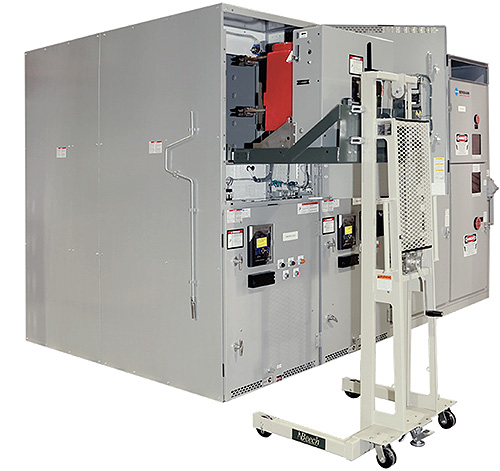 To ensure the safety of personnel servicing the equipment, all Benshaw medium voltage switchgear offerings include a rack-out circuit breaker design. A remote breaker control panel and arc flash sensing options are also available to further enhance personnel safety. In addition, Benshaw offers a full metal-clad switchgear solution.
MVCB switchgear assemblies are provided in a NEMA-rated enclosure configured for use as a stand-alone unit, in an equipment line-up or in a motor control center (MCC) configuration. Benshaw switchgear connects seamlessly to the rest of the Benshaw MCC for a space-saving design to feed line-ups or in jumbo starter solutions.
The Benshaw Application and Engineering Support team is available to customize switchgear designs to meet a customers' specific application needs without extended lead times.
Standard Features
40 kA fault rated
Rack-out design
NEMA 1A indoor enclosure
Welded 11 gauge steel construction
Feeder protection with CPT and PT
Green open pilot light
Red closed pilot light
Amber trip pilot light
Open push-button
Closed push-button
Manual racking device
Bus rated to CB size
Line power top entry standard
Load power top exit
Key Advantages:
Bolts directly to Benshaw MCC line-up or starter
CSA special inspection
Available in 1200 A or 2000 A standard (3000 A option is custom)
Feeder protection included as standard — customer to specify manufacturer
Available up to 13.8kV
Configurable with added options
Rack-out design standard
Remote breaker control panel
---
Contact us to learn more about Benshaw Medium Voltage Switchgear Assemblies and accessories.