SG Series Variable Frequency Drives
Benshaw SG Series Variable Frequency Drives are microprocessor based, offering sensorless vector control for AC induction motors. Our SG Series drives take advantage of a powerful 32-bit microprocessor control and next generation IGBT power switching technology to provide high performance electronic motor control.
SG Series Variable Frequency Drives support applications ranging from 7.5 HP to 40 HP (@ 230 volts), 7.5 HP to 700 HP (@ 460 volts) and 7.5 HP to 400 HP (@ 600 volts). All drives in the SG series feature an intuitive LCD display/keypad that displays information in plain English — with no special codes to look up — making drive setup, operation and fault diagnosis as simple and straightforward as possible.
SG Series Variable Frequency Drives are well-suited for basic fan/pump applications, but are also used in more demanding industrial speed control applications.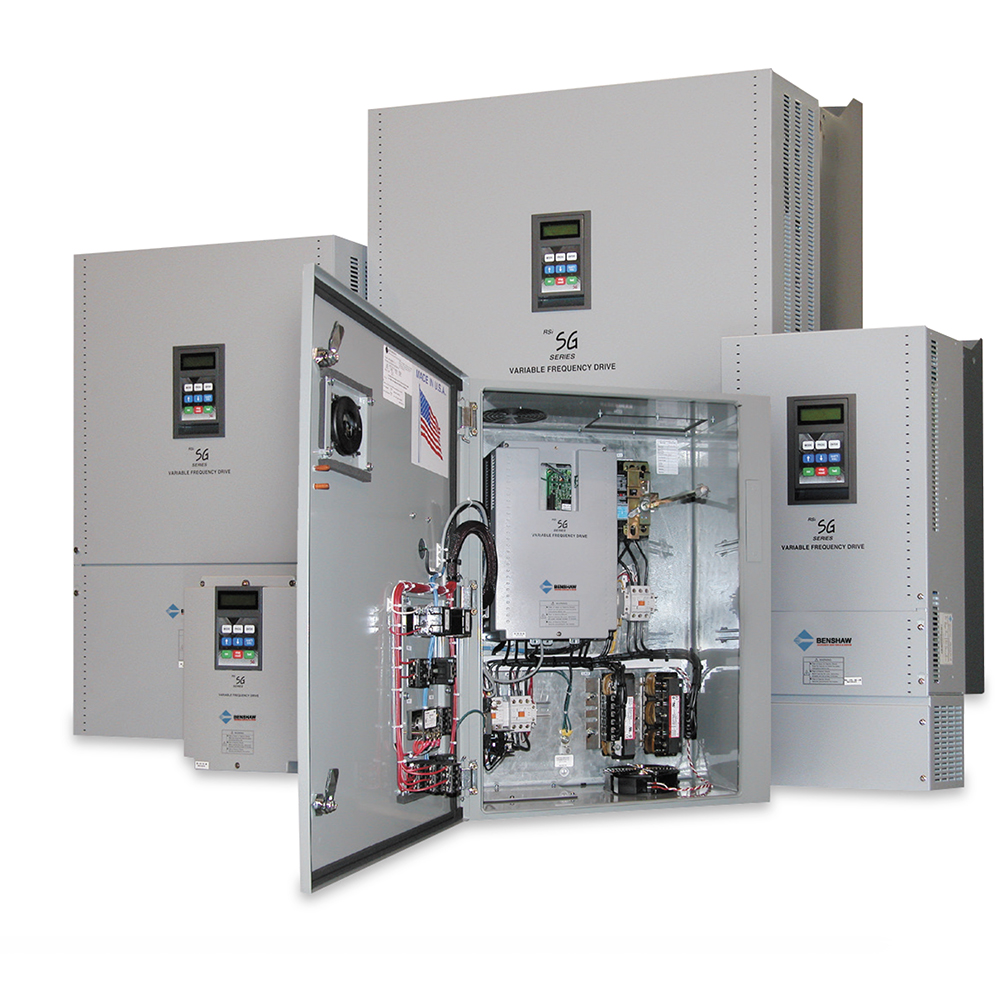 Standard Features
UL, CUL, CE marked
Two (2) line 32 character LCD alphanumeric display of output frequency (Hz), speed (RPM), motor currents (Ia, Ib, Ic), ground current, output voltage, power output (kW), power (kW-hours), DC bus voltage, inverter temperature, control source, speed reference source, operating status, parameter group and number, P & I reference and feedback, present fault, fault history
Two (2) analog inputs
Filtering and scaling of analog inputs
Pulse input
Eight (8) programmable digital inputs
Two (2) programmable analog outputs
One (1) Form C fault relay output
Four (4) Form A programmable relay outputs
Start/Stop control from keypad, two wire (maintained contact), three wire (momentary contact,) keypad communications (Modbus-RTU RS485)
Frequency command (speed) input signals from keypad, current (4 –20 ma), voltage (0 – 10 VDC, -12VDC – 12VDC), motorized potentiometer, communications (Modbus-RTU RS485), pulsed input, jog, fixed speeds (1 ~ 15)
Start modes – Accel, DC at start and flying start
Accel/Decel patterns – linear, S curve or U curve
V/Hz. patterns – linear, squared, user defined
Control modes – V/Hz., sensorless vector, slip compensation
Torque boost
Stop modes – Decel, DC brake, coast, safety stop
All control inputs are isolated from the incoming power by opto-isolators
Protective features (See Technical Specifications for details)
Two (2) independent programmable motor profiles
Programmable DC injection braking at start or during decel (max 60 Hz)
Scalable speed display
User selectable and adjustable auto reset and restart functions
Eight (8) programmable accel/decel ramps
Programmable maximum frequency to 120 Hz
Integral PID set-point controller
Multi motor control application
Eight (8) programmable preset speeds
Three (3) critical frequency lockout bands
Rsi Drive View software (PC-based)
---
Contact Benshaw to learn more about our SG Series Variable Frequency Drives and accessories.
Click here to locate general purpose drives in our webstore.