Multi-Stage Pump Control …
Benshaw's H2 Pump™ Series sets a new standard for multi-stage pump control applications. H2 Pump™ Series drives include application software designed to perform many functions — including advanced PID functions (eg. multiple pump or multi-stage pump control, lead lag, simplex, multiplex, triplex) — with the capacity of multiplexing up to eight (8) drives.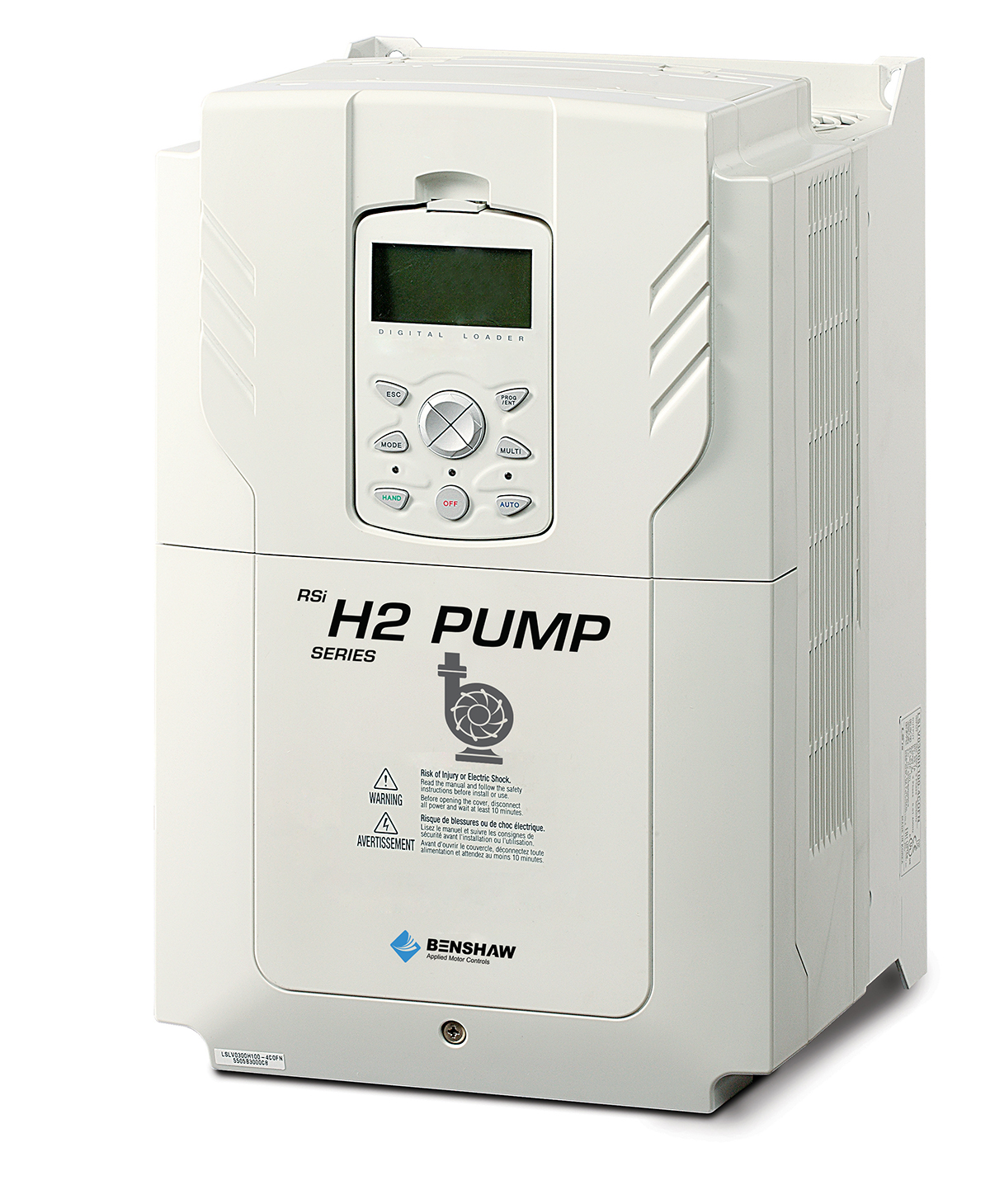 Advantages
Pumps are individually connected to AC drives, and a master drive controls the entire system:
The pump is controlled by the unique PID function of AC drive, so external devices such as PLCs or contactors are not required
The speed of each pump is controlled by individual AC drives to save energy
Since the operating time of each pump is evenly distributed, the life expectancy of the pumping equipment is extended, reducing the total system operating cost
If the master AC drive malfunctions, the next AC drive takes over as the master, and continuously controls the system without failure
The result? Cost savings (by reducing PLC's and peripherals typically required to achieve these functions), as well as reduced maintenance costs, better system control and improved pump and pipe monitoring and protection. If you have one or multiple motors in a system that require constant pressure or flow, then this is the drive for you.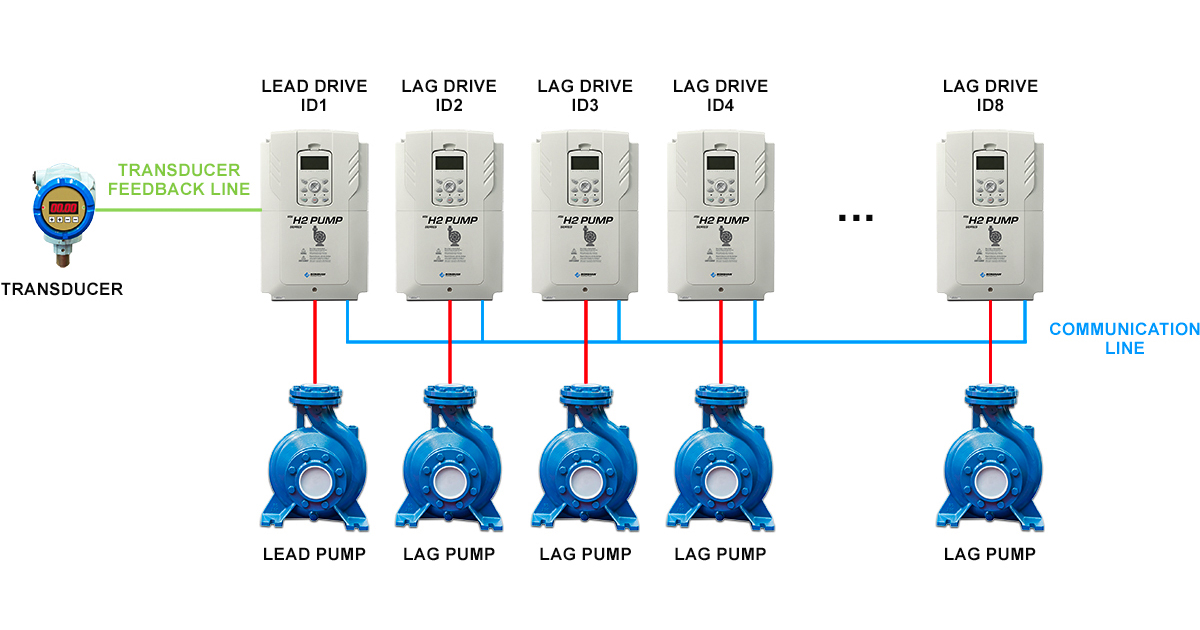 Benshaw H2 Pump™ Series Drives comply with key industry standards (UL/cUL/CE), offer built-in EMC filters (standard in all 480V models), standard RS-485 Modbus/RTU/BACnet/Metasys-N2 communication cards and a full range of programmable features.

WinDRIVE – PC Based Software for Commissioning and Monitoring
Optional Cards
Ethernet/IP
Modbus – TCP
Lonworks
---
H2 Pump™ Series Programming
H2 Pump™ Series Hardware Features
240V: 7.5HP~25HP (ND), 5HP~20HP (HD)
480V: 7.5HP~800HP (ND), 5HP~600HP (HD)
Protected Chassis IP20, 7.5~300HP / Open Chassis IP00, 400~800HP UL Enclosed Type 1 with optional conduit box (7.5HP~800HP)
LCD Display/Keypad
EMC Filter Compliant Category C3 (480V, 7.5HP-800HP)
Single Phase Input (derating required)
Plenum Rated (conduit option required)
Built in DC Reactor (480V, 50HP~800HP)
---
H2 Pump™ Series Software – Standard Features
PID Control with Sleep Mode and Wake Up Boost, Broken Pipe and Under Load Detection
Multi Motor Control – One drive to control the starting and stopping of up to 5 auxiliary motors up to 8 with option card
Multiplex mode, Simplex, duplex, triplex up to 8 motors
Master-follower
Multiplex via RS-485
Lead/Lag load share
Pre-Fill and Soft-Fill
Fire Mode Input
Start and End Ramp – settings for quicker accel/decel times when below minimum speeds
Decel Valve Ramp – Separate decel ramp frequency and time settings when stopping
Time Event Scheduling – Program run times for 7 days operation
Flow Compensation – Compensate for losses in long pipe lengths
Backspin Timer
Pump Clean Operation
Load Tuning
Drive Output Level Detection – Set warning/trip limits (current, power, others) to detect drive operation beyond limits
Oil Pump Starter Control
Damper Control and Monitoring
Broken Pipe Detection
Under Load Detection
Pre-Heat Function (Condensation Control)
---
Contact Benshaw to learn more about our H2 Pump™ Series Drives and accessories.