Setting New Standards …
Benshaw H2 Series Multi-Purpose Industrial Drives set the new standard for variable frequency drives technology. H2 Series drives offer V/Hz or vector control (with ratings for normal or heavy duty applications) for industrial drive applications ranging from 0.5 – 800HP. For fan and pumping applications, optional application software is available to meet the unique requirements of the water/wastewater, irrigation and HVAC industries.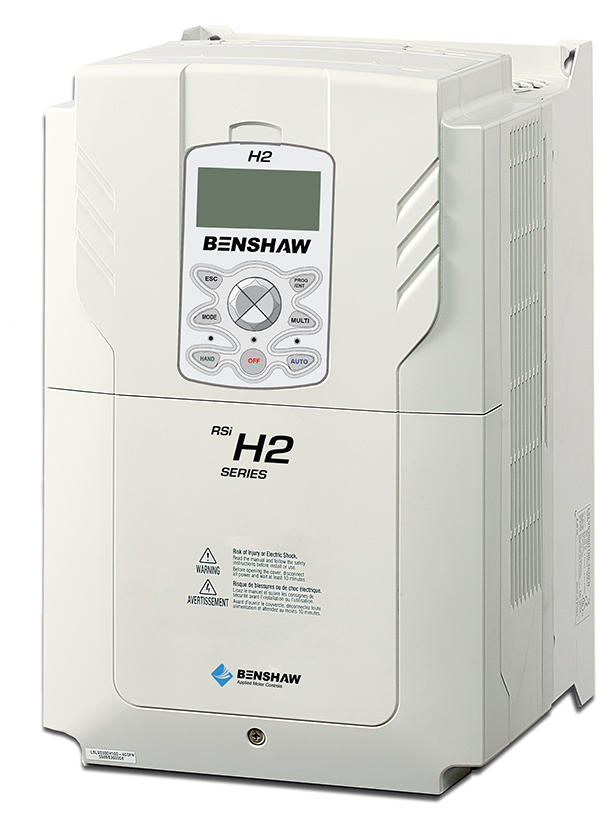 Benshaw H2 Series Multi-Purpose Industrial Drives comply with key industry standards (UL/cUL/CE), offer built-in EMC filters (standard in all 480V models), standard RS-485 Modbus/RTU/BACnet/Metasys-N2 communication cards and a full range of programmable features … making them an ideal choice for OEMs, panel builders and end users alike.

WinDRIVE – PC Based Software for Commissioning and Monitoring
Optional Cards
Ethernet/IP
Modbus – TCP
Lonworks
---
Standard Hardware and Software Features
Hardware
Software

Dual rating – normal and heavy duty
240V: 7.5HP~125HP (ND), 0.5HP~100HP (HD)
480V: 7.5HP~800HP (ND), 0.5HP~600HP (HD)
Protected chassis IP20
LCD display/keypad
EMC filter (480V only, 7.5-40HP and 150-800HP)
Internal brake IGBT (240V all, 480V < 40HP)
Single phase input (derating required)
Plenum rated

Quick start menu on power up
Control – V/Hz, sensorless vector control, slip compensation
Auto tuning
Macro selection – Pump, fan, or constant torque
Torque limits
PID control
Regen avoidance
Kinetic energy buffering(KEB), ride through
Decel brake control
H2 Series Pump/Fan Software – Standard Features
PID Control with Sleep and Wake-up, Broken Pipe and Under Load Detection
Multi Motor Control – One drive to control the starting and stopping of up to 5 auxiliary motors
Lead/Lag and Alternating Control
Pre-Fill and Soft-Fill
Standard BACnet and Metasys-N2
Fire Mode Input
Start and End Ramp – Settings for quicker accel/decel times when below minimum speeds
Decel Valve Ramp – Separate decel ramp frequency and time settings when stopping
Time Event Scheduling – Program run times for 7 days operation
Flow Compensation – Compensate for losses in long pipe lengths
Backspin Timer
Pump Clean Operation
Load Tuning
Drive Output Level Detection – Set warning/trip limits (current, power, others) to detect drive operation beyond limits
Energy Saving Operation
Oil Pump Starter Control ( compressor systems)
---
Contact Benshaw to learn more about our H2 Series Multi-Purpose Industrial Drives and accessories.