Benshaw CSXi Series Low Voltage Soft Starters are compact, easy-to-use soft starters with built-in motor protection. CSXi Series Low Voltage Soft Starters provide greater control for starting and stopping of three phase motors, and, at only 6.5 inches (165mm) deep, Benshaw's CSXi Series starters are easy to mount in shallow enclosures.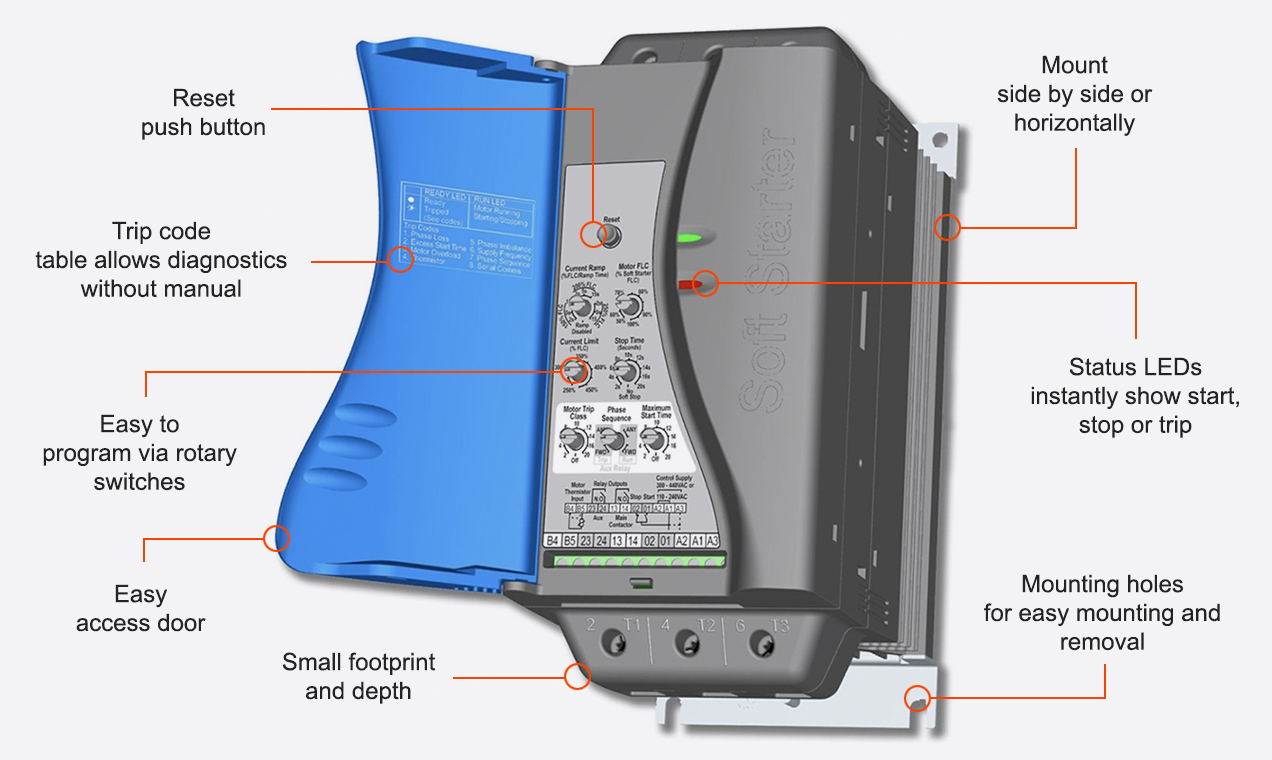 CSXi Series Low Voltage Soft Starters from Benshaw deliver a comprehensive motor starting and protection solution. These compact, reliable starters provide the latest constant current start technology and robust TVR soft stop, to reduce electrical and mechanical stress on your motor. The CSXi Series also incorporates essential motor protection functions to safeguard your motor during operation.
Simplified Setup
The CSXi soft starter is simple to setup via potentiometer settings with LED status indicators for soft start, soft stop, motor protection and more.
Flexible Mounting Options
With features such as dedicated output relays to control the upstream main contactor and power factor correction capacitors (if used), CSXi soft starters are easy to integrate into complex motor control solutions.
An integral bypass contactor allows CSXi Series Soft Starters to be mounted in non-vented enclosures without the need for an external bypass contactor or fans. Footprint and depth make CSXi Series Soft Starters ideal for MCC and low-profile enclosure installations. For motors up to 60 A the CSXi soft starter can be mounted on a DIN-rail, or it may be mounted horizontally to use less space.
Easy-to-Install Communication Interfaces
CSXi Series Soft Starters support network communication via easy-to-install communication interfaces. Each soft starter can support one communications interface at a time. Available protocols include: Ethernet* (Profinet, Modbus TCP, Ethernet/IP), Profibs, DeviceNet, Modbus RTU and USB.
* Ethernet communication modules are not suitable for use with CSXi starters using 380/440 VAC control voltage.
Built-In Motor Protection Features
CSXi Series Soft Starters include extensive internal protection features, eliminating the need for an external motor overload device. The thermal overload protection feature continuously monitors a connected motor's current: If the motor temperature reaches 105% of the user set motor trip class (calculated based on monitored current), the CSXi will trip.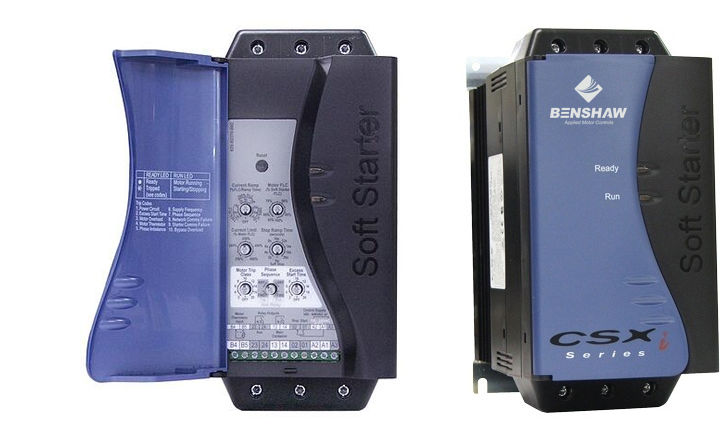 Additional motor protection features include:
Current ramp
Motor FLC
Current limit
Stop ramp time
Motor trip class
Auxiliary relay
Phase sequence
Excess start time
Energy Saving Design
CSXi Series Soft Starters are equipped with an internal bypass function to reduce operating costs.
Soft starters in the CSXi series achieve 99.5% efficiency during run, produce no harmonics and are the most energy efficient solution available for fixed speed applications with variable load.
Rapid Delivery
CSXi protected chassis units are available for immediate shipping from our Pennsylvania warehouse.
---
Contact us to learn more about Benshaw CSXi Series Compact Low Voltage Soft Starters and accessories.