Benshaw's variable frequency drive technology provides reliable motor control, financial savings and improved asset protection for ball mill control applications. The reliability of our low voltage variable frequency drive technology leads to increased production and greater uptime by reducing maintenance downtime.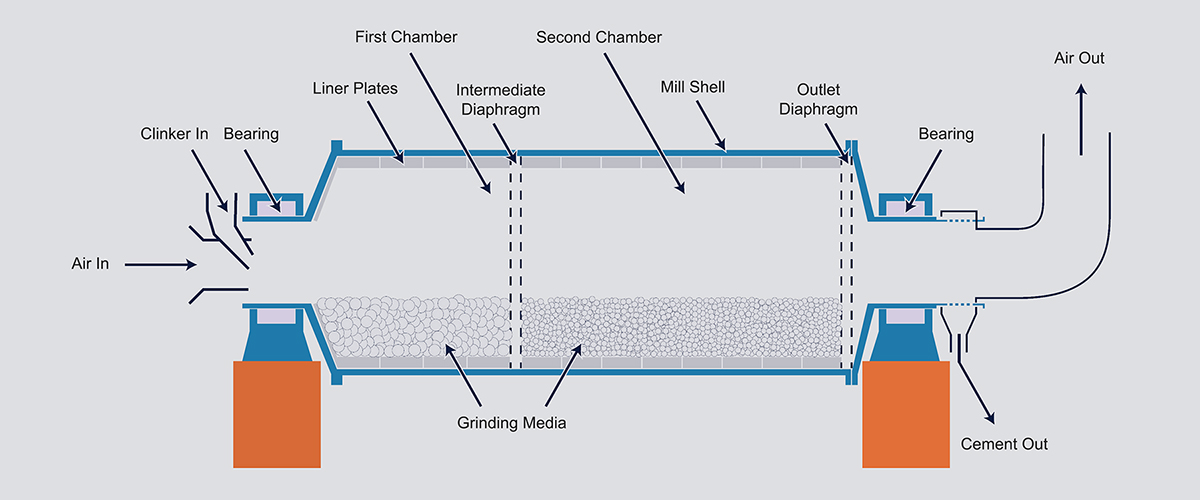 Benshaw has in excess of 100,000 HP of installed ball mill motor control base, and 30 years of experience with ball mill motor controls. Using this experience, Benshaw has pioneered the innovative technique of using a low voltage AC drive to power a medium voltage application … providing a reliable, cost effective solution for ball mill control.
The Problem
Ball mills are used in many industries to grind coarse material into a finer powder. When it comes time to service the mill, an access hatch must be positioned to allow technicians to enter the mill and for the ball charge to be changed. That is when difficulty can begin. Positioning the access hatch is accomplished by a process known as spotting or inching. Without a dedicated inching system it can be difficult to precisely position the mill, since the technician has no way to accurately and effectively apply torque to the motor directly from the power system.
Traditional positioning technology applies a switched DC current to the stator windings in a specific pattern to simulate the sinusoidal AC wave form applied during normal operation while keeping the field excited. However, abruptly starting and stopping the motor can cause mechanical and electrical damage to the equipment. This, along with full voltage starting, stresses the overall electro-mechanical system and can cause excessive downtime and reduced production.
Benshaw's Solution
Working with a long time customer and local Benshaw partner in the motor controls industry, Benshaw has successfully applied a 480VAC 700 HP AC variable frequency drive for positioning a medium voltage synchronous motor driven ball mill. The variable frequency drive powers the 4160Volt – 3500HP synchronous ball mill motor during positioning to smoothly rotate the ball mill and bring it to the proper position for maintenance.
The customer's previous system utilized multiple DC contactors and a motorized cam switch to position the mill. The speed of motor rotation was fixed at a slow 0.18 hertz by the cam switch operation. At this speed, mill maintenance took an entire day to complete.
By contrast, Benshaw's AC variable frequency drive has the capability to provide full torque at zero speed to start and rotate the mill during the positioning process. The drive provides speed adjustability to a maximum of six hertz. This is thirty times the previous inching speed!
Added Benefits
Benshaw's solution replaces obsolete and unsupported cam switches and eliminates the need for DC contactors and the associated contact tip maintenance. As a full-line motor controls supplier, Benshaw is able to supply medium voltage solid state starters with an integrated synchronous exciter package, and interface the variable frequency drive seamlessly into a medium voltage motor control line up. In some cases we can also utilize a single variable frequency drive multiplexed between two mills for additional cost and space savings.
---
Click here to learn more about Benshaw's Ball Mill Positioning solutions.
Contact Us to discuss your ball mill positioning requirements.