Benshaw's MX2 SEP Synchronous Controller is a microprocessor-based, closed-loop current controller package for brush type or brushless synchronous electric motors. The MX2 SEP controller continually regulates the amount of field current being delivered to the motor, which protects the motor from overheating due to excess field current.
Benshaw's MX2 SEP controller offers programmable current and power factor regulation modes. Our power factor regulation mode utilizes advanced MX2 or MX3 microprocessor-based controls for its metering and protection capabilities.
Synchronous motors function as an induction motor during start-up. Once the motor approaches full synchronous speed, Benshaw's RediStart DC exciter induces a constant polarity to the rotor, causing the motor to lock into sync. Because the rotor's field is constant, and separately excited, there is no slip required to produce torque, as with an induction motor, allowing the motor to run at synchronous speed.
Benshaw synchronous packages can be incorporated into solid state starters, full voltage starters, or supplied as a separate stand alone package. The SEP (Synchronous Exciter Package) can be supplied for brush type and brushless exciters.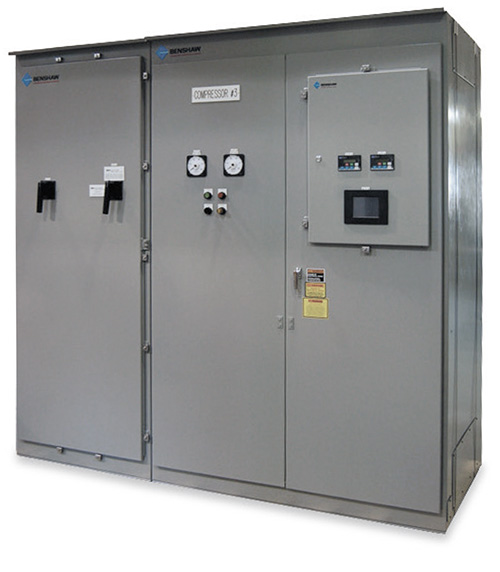 Available Models
Solid State Starter with SEP
The Benshaw synchronous solid state starter package consists of a RediStart series solid state starter connected to the stator to provide a smooth stepless acceleration, and the SEP section that is connected to the rotor, in conjunction with the discharge resistor to provide automatic synchronization. This can be supplied for brush type, and brushless exciters.
Full Voltage Starter with SEP
The Benshaw synchronous full voltage starter package consists of a contactor starter system that is connected to the stator, and the SEP section that is connected to rotor, in conjunction with the discharge resistor to provide automatic synchronization. This can be supplied for brush type, and brushless exciters.
Stand Alone SEP
The Benshaw stand alone Synchronous Excitation Package can be connected to the rotor section in conjunction with a discharge resistor, and incorporated into an existing starting system to provide automatic synchronization of the three phase AC synchronous motor.
Performance
Benshaw solid state controls reflect 30 years of valuable experience in the design, production and installation of high performance, mission critical motor controls for heavy duty continuous process applications. Our next generation synchronous controllers for synchronous motors and generators are a source of pride for the entire company.
Ratings
Horsepower: 50 to 50000 HP
Voltage supply: 100Vac to 330Vac
Field voltage: 50 to 250 Vdc
Field current: 5 to 700Adc
Key Features
Universal voltage operation
Universal frequency operation
Phase rotation protection
Built-In-Self-Test for system integrity
Regulated current control
Regulated power factor control
Field current protection
LCD Display
3 configurable relay outputs
4 configurable digital inputs
Modbus and Ethernet TCP communication
Programmable analog output
Benefits
Modular stack design
Solid state control
Multiple frame sizes
Closed-loop current control
Reduced maintenance
Can be added to existing equipment
Brush type and brushless control
Advanced synchronous motor control protection
Programmable operating parameters
Programmable metering
---
Contact Us to discuss your low voltage synchronous controller requirements.