Benshaw L Series Panel Systems
Benshaw L Series panels deliver the most universal switchgear system on the market. Designed from the ground up to provide maximum flexibility, Benshaw L Series panels are fully type tested in accordance with IEC 62271-200. Both standalone and line-up configurations are available.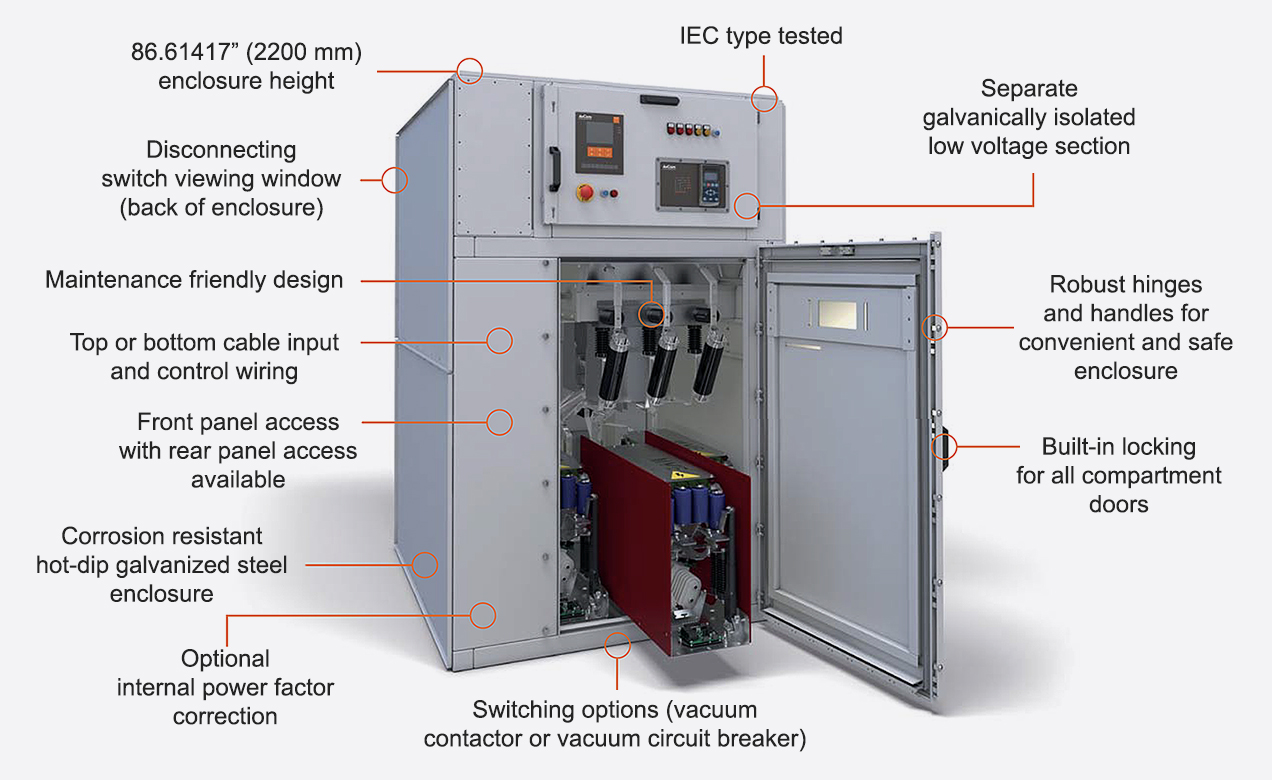 Benshaw's L Series MVE soft starter is a powerful and reliable soft start solution for medium voltage applications. The panel's extensive safety features, easy-to-use graphical interface and comprehensive built-in motor/load protection features provide a well balanced option for your medium voltage motor control needs.
Voltage – 2.3 – 13.8 kV
Amps – < 540 A (standard) / < 1200 A (to order) Loss of service continuity – LSC1 (E1 & E2 config.) / LSC2/LSC2B (E3 config.)
Rated short time withstand current/peak – Up to 40 kA for 1 sec/104 kA
Internal arc fault classification – AFL 31.5 kA for 1 sec
Installation Configuration – Standalone or Line-Up
L Series MVE panels are available in either an IP4X or IP54 configuration as standard, with options for line and bypass devices, earthing and isolation switches. Benshaw can also design and build custom panels — or line-ups — to meet your specific engineering/application requirements. Options include:
Top or bottom cable input (motor & control wires)
Supply voltage: top, bottom or main busbar system
Switching devices (line & bypass): vacuum contactor or circuit breaker
Internal power factor correction with capacitor, vacuum contactor, fuses and inrush current limiter
Control voltage source: internal via MV control transformer or external via customer terminal blocks
Earthing/disconnector: Input, output or main busbar system
Solid locking doors and heavy, double layer compartment panels provide complete arc fault containment. Discharge flaps (or optional ducts) on the top of each panel are designed to safely release pressure upward (or vent it safely outside) in the event of an explosion. The keypad is removable for remote mounting via cable or easy copying of parameters between starters.
Event logs can be viewed on the controller, or they can be downloaded from the starter using Benshaw's Trip and Event Logger Software via USB.
Metering Functionality
Motor current
Mains voltage
Mains frequency
Motor pf
Motor kW
Motor HP
Motor temp
kWh
Hours run
Real-time graphs
Protection Features
48 – Excess start time
66 – Too many starts
37 – Undercurrent
51L – Load Increase (alarm)
51R – Overcurrent – jam
50 – Overcurrent – shorted SCR
49/51 – Thermal overload
46 – Current imbalance
27 – Undervoltage
59 – Overvoltage
47 – Phase loss
47 – Phase sequence
50G – Ground fault
85 – Communications failure
85 – Internal failure
94/95 – Auxiliary trip A
94/95 – Auxiliary trip B
23 – Motor overtemperature*
49 – Stator winding over temperature*
32 – Power Loss
* Optional RTD relay
---
Contact us to learn more about Benshaw L Series IEC-Rated Soft Starters and accessories.