Benshaw's MVE-P Series Medium Voltage Soft Starter is a powerful, reliable solution for your medium voltage motor starting requirements. MVE-P Series soft starters bring together sophisticated soft starter motor control functionality in a robust, compact configuration.
Available in NEMA1, NEMA 12, NEMA 3R and outdoor rated enclosures, Benshaw's MVE-P Series Soft Starter is a complete E2 starter offering which includes a load break disconnect switch, an in‐line vacuum contactor and a fully rated bypass vacuum contactor, as well as built-in motor overload protection. Extensive personnel safety features, an easy-to-use graphical interface, and comprehensive built-in motor/load protection make this a well balanced solution for your medium voltage needs.
In addition to standard packages, we can also supply custom cabinets to deliver a complete line-up to meet your requirements.
Safety and Ease-of-Use
Low voltage circuits are fully isolated from the medium voltage power electronics, using a high quality fiber-optic connection. To simplify commissioning, MVE-P Series starters support testing with a low voltage motor to fully test power and control circuits using the built-in simulation modes.
The MVE-P's phase arms have been designed for maximum versatility in installation. For common ratings, power terminations can be made at either the top or bottom of the input and output busbars. Modular design means each phase arm is separate, and can be individually removed for maintenance if required.
Standard Control Features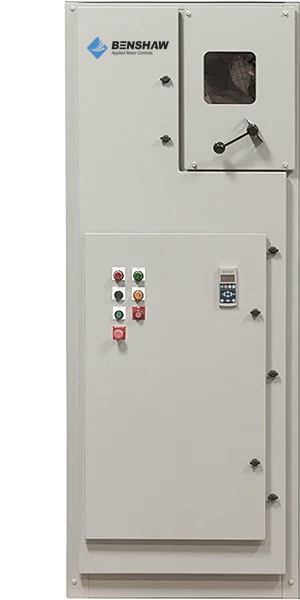 All control components are mounted in the low voltage compartment and wired to a customer terminal strip. The low voltage compartment door can be safely opened without turning off the soft starter.
Digital control module
Starter/Off/Bypass selector switch
Start/Stop pushbuttons
Emergency Stop button
Run/Stop/Fault indicator lights
Specifications
Mains voltage: 2.3 kV ~ 15 kV (±10%)
Control voltage: 120 VAC or 230 VAC
Current range: 110 A ~ 1200 A (nominal)
Rated frequency (fr): 50/60 Hz
Max start current: 400% FLC
Max start time: 30 seconds at 400% FLC
Operating temperature: 0°C to +50°C, max (+60°C with derating)
Storage temperature: 25°C to +70°C
Altitude: 1000 m ASL (higher with derating)
Relative humidity: 5% to 95%, non condensing
Approvals/certifications: UL/cUL
---
Contact us to learn more about Benshaw MVE-P Series Soft Starters and accessories.