Benshaw's advanced MVRXE Dual Redundant Solid State Soft Starter is a microprocessor-controlled, reduced voltage soft starter for three phase induction motors. MVRXE Series soft starters from Benshaw are designed for severe duty applications and offer a closed-loop current ramp for smooth, stepless motor acceleration.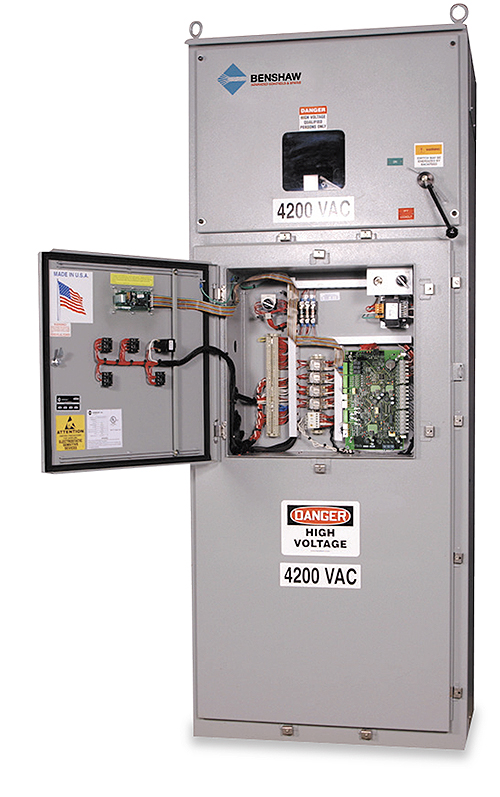 MVRXE Series Soft Starters provide reduced voltage starting for normal operation and full voltage emergency back-up starting, with complete motor protection at the flip of a switch. Enclosures are available in NEMA 12 or NEMA 3R configurations consisting of two distinct compartments. The medium voltage or power pole section is located in the main body of the enclosure, whereas the low voltage section containing the control logic is located behind the door as an isolated compartment. Each starter is supplied with a load break isolation switch, Class "R" motor fuses, inline vacuum contactor, solid state power poles and a vacuum bypass contactor, which is used to bypass the SCR power poles once the motor is up to full speed.
Solid state reduced voltage starting
Full voltage ATL emergency backup feature
NEMA 12 enclosure
UL 347, Class E-2 combination
Load break disconnect switch
Built-in self test
Digital protection and metering
UL zero sequence ground fault
Cost Benefits
Solid state starters typically cost less than competing reduced voltage motor starting technologies, but they also offer operating cost advantage by helping to lower energy costs and by reducing wear on motors, drive train components and driven machinery. Benshaw's solid state soft start technology provides precise, stepless control over motor starting voltages (torque), which results in smoother acceleration of the motor, reduced shock loading to the drive train and machinery and better control of motor inrush currents.
Electrical Benefits
The advantages of Benshaw's patented solid state motor control technology are particularly important when process conditions create varying load demands on a motor during startup. For example, with competing technologies a loaded motor will require more inrush current, over a longer period of time, to achieve the torque needed to begin moving a load. During that time, electrical circuits can trip and motor overheating may occur … placing significant demands on your power distribution system. In contrast, Benshaw's MX3 soft start technology ramps voltage to the motor in a softer, stepless manner, eliminating excessive inrush currents, expensive voltage surges, overheating and the damaging effects of a sudden, stressful start.
Additional electrical benefits include:
Reduced supply line voltage drop
Compliance with utility company starting restrictions
Elimination of oversized generators
Fewer branch circuit protection trips
Improved power quality
Reduced rotor and stator stress
Extended motor life
Smooth Starting Ramps

Benshaw's MX3 control technology (included with the MVRXE) provides user adjustable motor ramp profiles that can be tailored to match the motor load of your specific application … allowing for a smooth ramp of the motor. Adjustable voltage control deceleration suitable for pumping applications is also included. MVRXE Series soft starters can be programmed using a door mounted LCD keypad or Modbus register mapping.
Advanced Motor Protection Features
Our MX3 control technology also provides advanced motor protection, with adjustable overload settings and available RTD monitoring … eliminating the need for a third party motor protection relay. A real time clock with an event recorder (up to 99 events) is also included. Key features include:
ANSI 14 – Speed switch and tachometer trip
ANSI 19 – Reduced voltage start
ANSI 27 / 59 – Adjustable over/under voltage protection (Off or 1 to 40%, time 0.1 to 90 seconds in 0.1 second intervals, independent over and under voltage levels)
ANSI 37 – Undercurrent detection (Off or 5 to 100% and time 0.1 to 90.0 seconds in 0.1 second intervals)
ANSI 38 – Bearing RTD / Other RTD / Open RTD alarm
ANSI 46 – Current imbalance detection (Off or 5 to 40%)
ANSI 47 – Phase rotation (selectable ABC, CBA, Insensitive, or Single Phase)
ANSI 48 – Adjustable up-to-speed / stall timer (1 to 900 seconds in 1 second intervals)
ANSI 49 – Status RTD
ANSI 50 – Instantaneous electronic overcurrent trip
ANSI 51 – Electronic motor overload (Off, class 1 to 40, separate starting and running curves available)
ANSI 51 – Overcurrent detection (Off or 50 to 800% and time 0.1 to 90.0 seconds in 0.1 second intervals)
ANSI 51G – Residual ground fault detection (Off or 5 to 100% of motor FLA) / zero sequence ground fault detection (Off, 0.1 – 25 amps)
ANSI 66 – Starts/hour and time between starts / restart block (backspin timer)
ANSI 74 – Alarm relay output available
ANSI 81 – Over/under frequency
ANSI 86 – Overload lockout
Single phase protection
Shorted SCR detection
Mechanical jam
---
Click here to download our MVRXE Series Quick Ship catalog.
Contact us to learn more about Benshaw MVRXE Series Soft Starters and accessories.