Benshaw Medium Voltage Junction Boxes feature heavy duty, tin-plated copper bus bars and terminals for safe connection of medium voltage three phase circuits. The powder coated steel enclosure provides plenty of room for cable routing and a rugged design for use in harsh operating environments.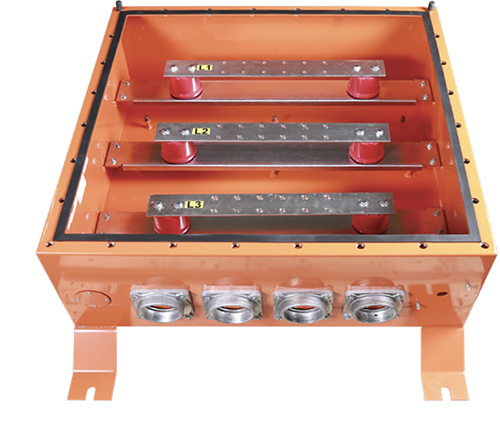 Key Features
NEMA 1/12 construction
11 gauge steel construction
Durable polyurethane TGIC powder paint
Tin-plated copper bus
Main Lug Only (MLO) Section
Benshaw's MLO Series Main Lug Only Section provides a full height and depth NEMA rated enclosure for use as a convenient area to land the line or load cable connections while providing a transition area for a disconnect switch, starter or MCC. Required for Benshaw line-ups with bus. The MLO can be configured for top or bottom cable access (specify when ordering). Customized MLO sections are available — just contact Benshaw's factory with your requirements.


Key Advantages
Landing pad for input cable
Optional feed-through bus to Benshaw line up
Top or bottom cable entry
NEMA 1, 12 or 3R enclosure configurations
Transition from other manufacturers' line up
Configure to match up to existing bus network (optional)
Optional control transformers and metering can be added
Bottom entry standard — top entry requires upsizing to 36″ W
Standard Features
Landing pad for cabling
NEMA 1/12 construction
ANSI 61 grey
11 gauge steel construction
Super durable polyurethane TGIC powder paint
Tin-plated copper bus
Paint finish meets ASTM A252-9 or A525-83
UL/cUL listed 5 kV Class
18″ MLO not UL
Options
Lockable front panel
Bus entry, left or right
Control wireway
---
Contact us to learn more about Benshaw Medium Voltage Junction Boxes and MLO sections.