Benshaw Full Voltage Starters
Benshaw offers a full line of contactors, overload relays, full-voltage and wye-delta starters. All units are UL® listed, IEC or NEMA rated.
Open Full Voltage Starters …
Reversing
Non-Reversing

NEMA rated contactors
NEMA size 00 – size 4
Direct-mount overload relays
Mechanical interlock
Draw-out cassette coils above 150 amps
Bimetallic overload relay
Integral coil surge suppression above 150 amps

NEMA rated contactor
NEMA size 00 – size 7
Direct-mount overload relays
Draw-out cassette coils above 150 amps
Bimetallic overload relay
Integral coil surge suppression above 150 amps
Prepackaged Full Voltage Starters with Door-Mounted Controls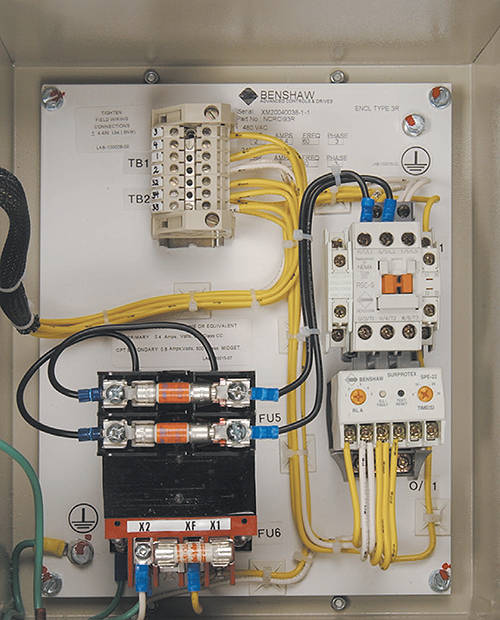 Benshaw RCI Series Prepackaged Full Voltage Starters are NEMA rated, cUL listed, completely integrated and non-reversing. The rugged NEMA 12/3R design is ideal for industrial duty applications such as pumps, compressors, conveyors, fans and any other continuous duty equipment. The "three wires in/out" design includes the Benshaw SPE field-adjustable electronic overload relay, which enables quick installation and startup with precision motor protection: Adjustable overload class (1–30), wide range of current adjustments, one (1) NO and one (1) NC auxiliary contact, current imbalance protection, phase loss detection, phase reversal protection, trip-free design, test function and trip/fault indication.
Standard Features
cUL listed
NEMA rated, heavy-duty contactors
NEMA 12/3R enclosure
Complete door-mounted operator control package
600/480/240:120 fused control power transformer
"Three wires in/out" installation and startup
Combination or non-combination
Two year warranty
Engineered Full Voltage Starters
Benshaw has developed advanced engineering, drafting, materials management and quality systems focused on designing and building customer solutions. This "Build to Order" capability combined with an extensive inventory of control components, protective relays, circuit breakers, contactors, enclosures and other electrical / electronic devices provides our customers with the quickest shipment of engineered products in the industry.
STANDARD RATINGS
1/2–600 HP
120–600 V
Single- or 3-phase
UL / CSA, IEC and NEMA
CONTROL MODIFICATIONS — WHATEVER YOU SPECIFY
Over 250 modifications and accessories are available
Pilot devices, control power transformers, switches, meters, relays, space heaters, protective devices and more
COMBINATION STARTERS TO MEET YOUR REQUIREMENTS
15 to 1200 amp circuit breakers
40 to1200 amp non-fused disconnects
30 to 800 amp fusible disconnects
Flange or rotary handle mechanism
ENCLOSURES TO MATCH YOUR ENVIRONMENT
Standard designs — NEMA 1, 12, 4 or open chassis
Custom enclosures
Special enclosures — 3R, 4X, as specified
Motor control centers
---
Click here to download our Full Voltage Starter pre-sale check sheet.
Click here to learn more about Benshaw's complete line of full voltage starters.